Lit|Up!, the; -s <transl.> (informal literature meetings in private and public places in Zürich. Our goal is the literal and poetic exchange, the shared celebration of reading out and listening in a comfortable ambience. Instead of stage, audience, and jury, we offer an open round: Everyone can be listener, reader, guest, and host; but also writer, poet, and literature critic – all at once!)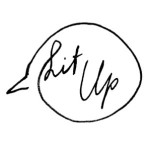 Interested? Just drop by! Even if you don't want to read anything yourself you are more than welcome to listen and talk to us. The exact location is announced via newsletter around one week before the event. Write us! Or email to litup_news+subscribe@googlegroups.com
Let's read out (aloud).
Everyone is welcome. You can bring texts or fragments to read – or just come to listen.
Poetry, essays, songs, novels, short stories, random letters, love letters – any literature  is welcome.
And no matter who wrote it – Bring your favourite or bring your own!
The respective motto of a LitUp! is meant as an inspiration – no more, no less.
We like to respect the writer, the messenger, the listener, the host, and everyone else. We question authorities and -isms.
All languages are beautiful.
Most LitUp! in Zurich are happening in German and-or English. You can change this. Also, feel free to bring texts in any language you like. Or no language at all.
What to bring along?
Your ears and maybe something to contribute to a buffet, drinks,
candles, music instruments, appropriate clothing for the location and weather and of course texts to share.
I want to host a LitUp!!
Yay! Just tell us place, time, linguistic setting and motto (and design an invitation.pdf if you wish) and we will spread the word.